INTERNATIONAL CROWD PACKS SUNFLOWER PARTY AT GROUND ZERO

CLARKSDALE – Despite sub-freezing degrees, red hot blues from seven bands packed an international audience inside Ground Blues Club for the Sunflower River Blues Festival's annual Thanksgiving Eve party.
With Australia's Ray Jardine winning a Sunflower t-shirt for traveling the longest distance, other long international travelers included groups from Panama, Dublin, Ireland, London, and Frankfurt, Germany.
Joining the diverse crowd applauding the rare lineup of numerous veteran musicians, were canoeists from the Mississippi River taking a break from their journey from Minnesota to New Orleans and also many visitors in Clarksdale for the holidays.
"We are grateful to the outstanding artists performing for the Sunflower Festival and to Mayor Bill Luckett for supporting this event at Ground Zero," commented Sunflower chairman John Sherman. "
All musicians will be part of the free 27th annual Sunflower Festival lineup August 8-9-10, 2014.
From the stage, Luckett welcomed all, and distributed GZBC souvenirs to international guests.

Opening the show was talented 14-year-old guitarist Kingfish, a stand-out student of the Delta Blues Museum's elite educational program making his solo debut on GZBC's fabled stage.
Guitarist Big Dave Dunavant not only served as master of ceremonies and played solo with many of his original compositions, he also sat in with other performers.
Also showcasing her virtuoso talents on stage with other performers since she first wowed Clarksdale audiences years ago as a 12-year-old Clarksdale guitar sensation was Jacqueline Nasser.
Lee Williams, a Mr. Johnny Billington who's all grown up now too and acclaimed by many as the Delta's best drummer since Sam Carr, set the evening's upbeat tempo.

Adding their own veteran musical signatures to the holiday success were Josh "Razorblade" Stewart, James Super Chikan Johnson, Heather "Sweet Suga" Crosse, Sean Apple and the All Night Long Band.

 Super talent James 'Super Chikan' Johnson is flanked by talented ladies:
Heather Crosse on bass (left) and Jacqueline Nasser, guitar.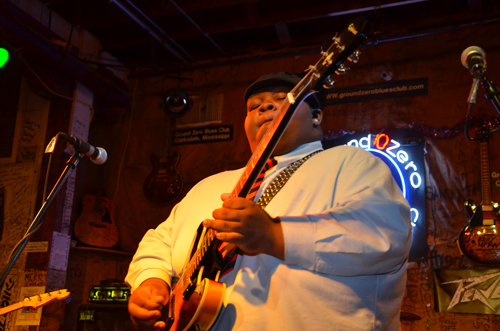 Fourteen-year-old Delta Blues Museum student Kingfish makes
his solo debut on the GZBC's fabled stage.