CLARKSDALE – Celebrity wannabes at Blues Trail Marker celebrations often claim close personal relationships with the honored musician.
Few, however, can describe Big Jack Johnson winning a $100 bet for rasseling a bear and flipping him to the ground.
Except Red Paden.

"Actually Jack flipped the bear not once but two or three times," says Paden, owner of Clarksdale's heralded blues club where Big Jack performed exclusively when he was in town.
He says the wrestling match took place in Coahoma County following a dare and the promised $100 payoff.
Acknowledging unofficial but reliable grapevine news that Jack Johnson's name will appear on a blues marker during the Sunflower River Blues Festival, Paden confirmed the two were tight as brothers.
They first met when they were 12 or 13, he says.
"We used to see each other around; both of us liked the same little stuff: farming, raising a garden, fishing and hunting to feed our families," continued Paden who grew up in a family of 11 children.
"Jack and one of my sisters had the same birthday: July 30," he said.
Paden says Johnson grew up chopping cotton on a farm around Lambert before moving to Clarksdale where he had relatives running a blues club near the oil mill in Lyon and another on Sixth Street.
Big Jack's moniker "The Oil Man" stuck during his truck driving days for Rutledge Oil Company. He has an album with this title, and his band members were called "the Oilers."
Paden spent his childhood in Clarksdale except for one banishment period cutting pulpwood at his Aunt Clara's in Lorman.

"They had every kind of wild animal down there especially skunks, and tomato juice was the only way to get rid of that smell," he said.
"Jack and I had our ups and downs; he was one of the good guys; he helped folks out; gave them a helping hand," continued Paden. "He was 90 percent good."
Paden says Johnson liked white country music, but he played blues because "blues is about hardship and goes deeper."
Performing and recording first with Sam Carr and Frank Frost as the Jelly Roll Kings, Johnson played non-stop on weekends, but Paden says, "We were all brought up in perspective and went to church on Sunday."
As a soloist, Big Jack was recognized time and time again by Living Blues magazine and more than a dozen Blues Foundation nominations for Handy Awards as a virtuoso guitarist and a dynamic live performer.
He loved playing mandolin, writing songs, and his gritty compositions targeted real life events, problems and relationships.
"He told stories, "says Paden. "We'd be traveling together around Arkansas, Florida, and Mississippi, see something happen, and Jack would write about it. He was always rambling."
Touring internationally from Scandinavia to Japan, Johnson amassed a global reputation.
"He was not like a lot of musicians who become famous; he always came back to Clarksdale," Paden adds
Angenette, their children, grandchildren, friends and home came first, says Paden.


Best friends, Big Jack Johnson and Red Paden in front of Paden's heralded Clarksdale club on Sunflower Ave. where Johnson played exclusively when he was at home from touring. Paden, who attended Jackson State University on a football scholarship where he played with Hall of Famer Walter 'Sweetness' Payton, was awarded a 'Keeping the Blues Alive' plaque by the Blues Foundation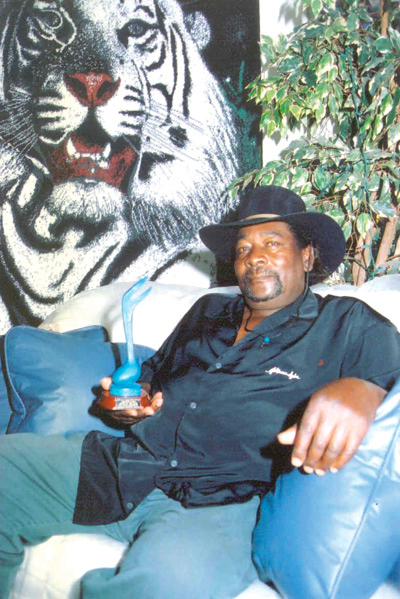 Photo of Johnson at home holding his 2003 Handy award for Best Acoustic Album of the Year
Nominated for more than a dozen Handy Awards, Big Jack Johnson holds his award for Best Acoustic Album of the Year (2003) in the living room of his Clarksdale home
Big Jack Johnson headlined many Sunflower River Blues and Gospel Festivals.
Photo credit:
Photos by Panny Flautt Mayfield