CLARKSDALE – A Robert Plant Supernova exploded here August 11, 2012, and skyrocketed the 25th Sunflower River Blues and Gospel Festival into music legend history.
"It was beyond awesome," agreed festival co-chairs Melville Tillis and Maie Smith.

Robert Plant
Before a crowd estimated from 15,000 to 30,000 in downtown Clarksdale, the former Led Zeppelin superstar and his multi-talented Sensational Space Shifters lived up to their name with a dazzling performance of exotic sounds, rhythms and a nod to Delta blues.
With Robert Plant lacing together the pieces of magic with the high-energy of vocalist Patty Griffin, guitarists Justin Adams and 'Skin' Tyson, drummer Dave Smith, keyboard master John Baggott, and Billy Fuller on bass guitar, Juldeh Camara mesmerized the audience with the haunting, evocative strains of one-string African instruments.
It was a seamless, celestial tapestry with freight-train impact, according to the largest concert crowd in Clarksdale history.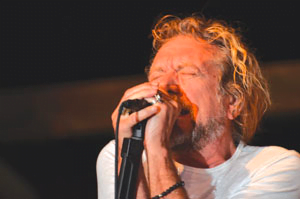 Robert Plant
At the show finale Robert Plant was inducted in the Sunflower Festival's First Hall of Fame, and responded with personal remarks about his early introduction to the music of blues masters and their influence on his career.
The three-day festival was jam-packed with blockbusters including internationally-renowned Charlie Musselwhite who closed with his signature interpretation of "Cristo Redentor."
Friday night's headliner Bobby Rush, who spoke earlier at the Blues Trail Marker honoring the Sunflower Festival, attracted a crowd estimated at 11,000, and gospel headliner Vickie Winans wowed the Sunday night audience with her finale performance.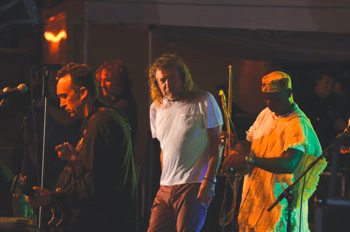 Justin Adams, Skin Tyson, Robert Plant,
and Juldeh Camara
Celebrated actor Morgan Freeman and his Ground Zero Blues Club business partner, attorney Bill Luckett were honored with the Sunflower's highest honor, The Early Wright Award, for their vigorous support of Mississippi Delta blues culture. The award is presented annually to individuals who "preserve, protect, and promote blues in its homeland."
Festival co-founders Jim O'Neal and Patty Johnson were presented awards and plaques were given to 25-year members: Melville Tillis, Catherine Clark, and Panny Mayfield.
More than 50 international journalists were registered as credentialed media. Also filming the event with interviews with Robert Plant were CNN, Mississippi Public Broadcasting, and Paul Sexton of London who is writing reviews for Billboard and The Daily Telegraph. Dozens of magazines, newspapers, radio shows, and the Associated Press published advance articles about Plant's performance in Clarksdale. For additional information, view www.sunflowerfest.org.
General review by Panny Mayfield