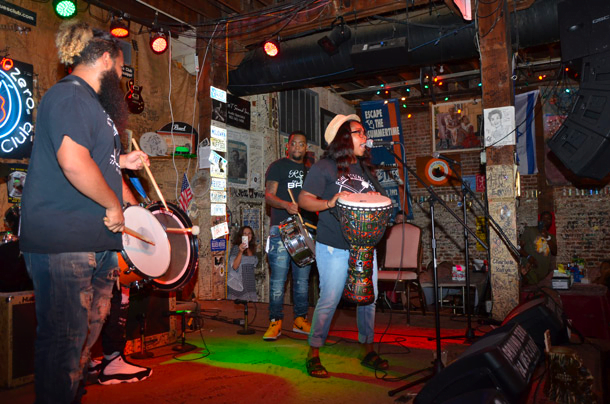 Sharde Thomas leads the Rising Star Fife and Drum Band in a rousing finale before a packed house at Saturday's Ground Zero acoustic stage during the Sunflower Festival. The legendary drum and fife band was founded by her late grandfather Othar Turner of Gravel Springs. She has been performing with the group since she was three years old. The 2019 festival sponsored eight acoustic stages Saturday afternoon before the main stage opened at 7 p.m.
John Sherman, Sunflower VIP Tent chairman, welcomes top Mississippi Arts Commission (MAC) official Maria Zeringue of Jackson to Saturday's Sunflower. MAC supported the free Sunflower Fest with a $4,400 grant and has been a major contributor of the event for several decades.
Performing 'Hill County Blues,' at Ground Zero Saturday, veteran guitarist Kenny Brown is a crowd favorite
Before his headlining performance at Sunday's Sunflower River Gospel Festival in Clarksdale's Civic Auditoriium, Minister Ricky Burton, headliner of the 2019 Sunflower River Blues and Gospel Festival (left) is surprised to be honored with the festival's prestigious Julius Guy/Melville Tillis Gospel Heritage Award for his contributions to gospel music by Sunflower official Maie Smith, center, and Johnny Kinnard, festival gospel chair.
Dianne and the Spiritual Angels are a crowd favorite at Sunday's Sunflower River Gospel Festival in the iavorite Civic Auditorium.